Here is a bag with a moustache motif on it!
"Moustache Bag" by Emanuellesther on DaWanda
I like it alot!!!
I have been thinking about buying it for a while. Since i can't really have a moustache of my own (without some pretty major lifestyle changes..or facepaints or..you'll see in a minute) a moustache on a bag is the next best thing. So I finally took the bag bull by it's horns really cool moustache and made the purchase today. Hooray! I just got that Friday feeling, but it's only Wednesday!
Speaking of Wednesday, this time last week I was eating sweets and drinking "blood" punch. Now, Halloween may be over but that is no excuse to put away your pretend moustache! I think maybe it would be pretty class if we had like, moustache day at the office. At least once a month. Then I could wear one of these, quite possibly even closer to the next best thing to having a real 'tache.
"Moustache Disguise" by Lupin on DaWanda. Moustache day at the office? No? Um. Ok.
but look, moustaches are even in ART: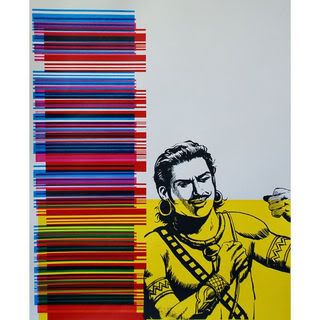 "Fisticuffs", an original silk screen print by Alysoisius Spyker on DaWanda
let's get a close-up on that beauty:
(Apologies for no direct links to the shops, the html linky thing is acting up in my editor. Please please go and check out more of their great work. Follow the link to DaWanda in the top right hand corner of the page.)
Have a great week! Mind your whiskers kids.
See you back at DaWanda!