Promote hand crafted goods and support the hard work of those who are creating by taking the handmade pledge this year! Add your name to the 9,000 plus list and make a statement that you will only buy handmade gifts this year, and wish that others will do the same for you.
If you are planning to brave the shops soon and organise your pressies, take a moment to consider a thoughtful, funny or beautiful gift which has been handmade, not mass produced. There doesn't seem to be much joy in buying meaningless and overpriced gadgets as presents. If you can't think of something better than the latest mp3 player for a present, it's time for you to visit DaWanda and see what we have in store!
Especially for the season that's in it, we have put together a Gift Guide for you, showcasing a treasure trove of great products that are ideally suited for all your loved ones: dad stuff, the boyfriend, the kiddies…and lots more!
Plus, every day on DaWanda one of the doors of the Advent Calendar pops open to reveal an extra special themed collection for you to browse and shop. Even more plus – there is free domestic shipping when you shop in the Advent Calendar! So act quickly if you find something from your wishlist behind, this offer is valid on the Advent Calendar goodies for a limited time only – on the day their door opens.
Below are gift ideas which are some of my favourites – perhaps for some of your favourites!
Ever feel like handcuffing your mother-in-law for unlawful behaviour? Do it the nice way with this beautiful silver cuff bracelet, by Alphabettispaghetti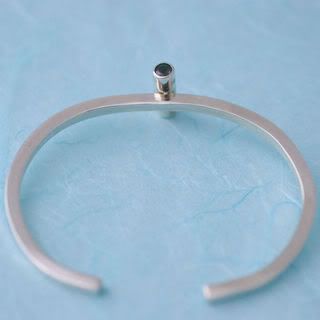 Secret Unfolding Pages Journal (set of 2) by Myhandboundbooks 
Reversible French Bird Earrings by Nettles
Happy shopping on DaWanda, have fun with the Christmas features and buy handmade!